Design: user interface, illustration, navigation
---
User Interface: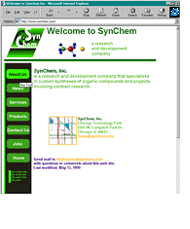 Nobody likes scrolling through pages and pages of text. Nobody likes waiting decades for graphics to stream through a slow modem. And nobody likes getting lost in a labyrinthine site.

You want your medical website to be like the ideal doctor's appointment: informative, with a minimum of waiting and a friendly interface. That's where the GenneX design team comes in. Once you've chosen the theme and image you want to project, we construct the entire site to bring your healthcare vision to life.

Medical Illustration:
We are anatomically correct!
Whatever your needs, we have talented illustrators that will add bring your vision to life. We provide accurate, informative, medical illustration created by Certified Medical Illustrators (C.M.I.s).




Navigation:





The navigation-how the site's individual pages are organized and linked-will be devised by those who understand healthcare's unique organization and terminology. We know how patients and health professionals use information.


GenneX knows which topics are similar, what should be linked to what, what should be prominent – resulting in a highly accessible Internet presence.